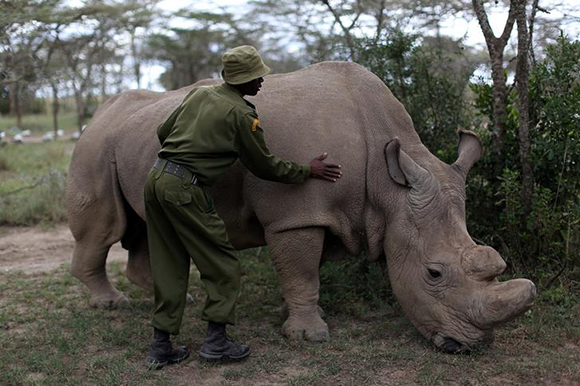 A wildlife ranger strokes a northern white rhino, only three of its kind left in the world, ahead of the Giants Club Summit of African leaders and others on tackling poaching of elephants and rhinos, Ol Pejeta conservancy near the town of Nanyuki, Laikipia County, Kenya, April 28, 2016.
Photo by Siegfried Modola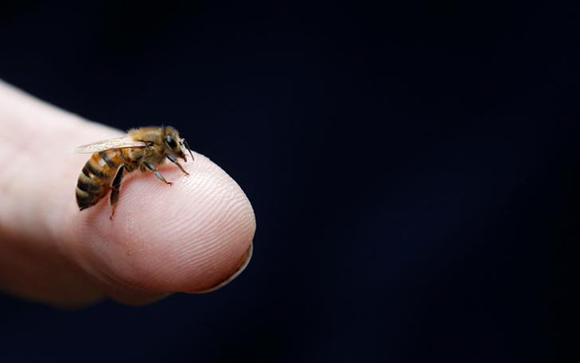 A honeybee is seen on a finger during the presentation to the media of tens of thousands honeybees permanently placed in a courtyard of a lower house of the German parliament Bundestag office building in Berlin, Germany, April 25, 2016.
Photo by Fabrizio Bensch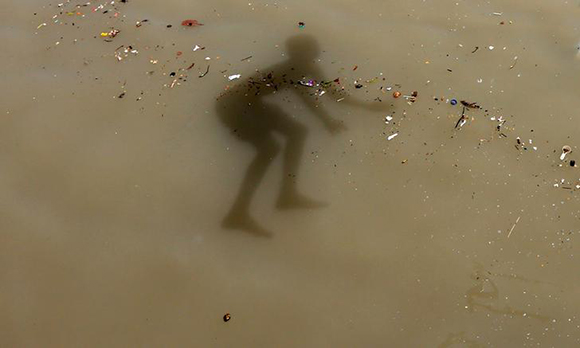 The shadow of a boy is seen as he jumps into the Ganges river to cool off on a hot summer day on the outskirts of Kolkata, India, April 22, 2016.
Photo by Rupak De Chowdhuri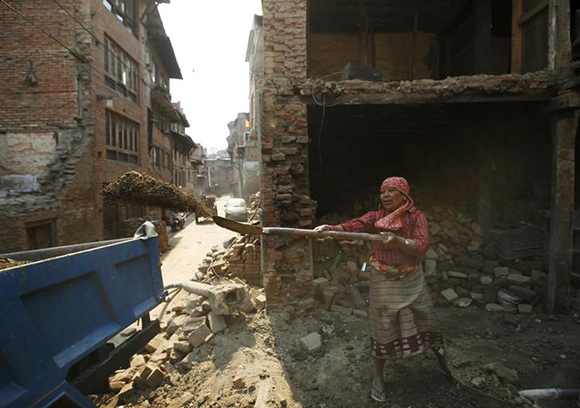 A woman works to rebuild a house a year after the 2015 earthquakes in Bhaktapur, Nepal, April 25, 2016.
Photo by Navesh Chitrakar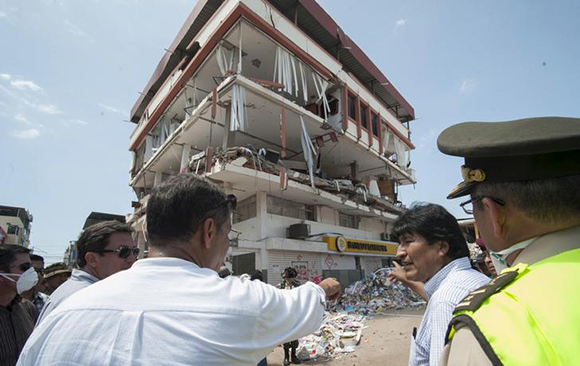 Bolivia's President Evo Morales and his Ecuadorian counterpart Rafael Correa visit the area of Tarqui in the province of Manabi, after an earthquake struck off Ecuador's Pacific coast, April 27, 2016.
Photo by Handout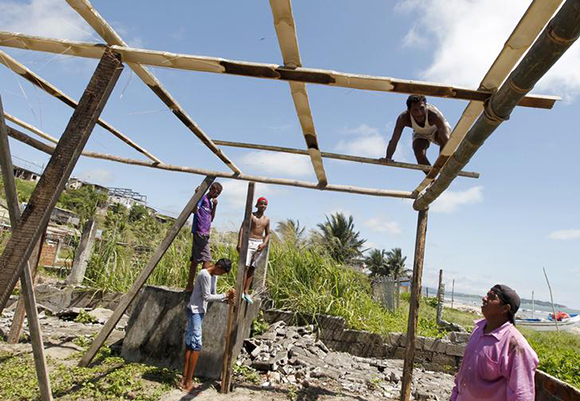 A man works on the roof as he rebuilds his house, after an earthquake struck off Ecuador's Pacific coast, in Pedernales, Ecuador, April 25, 2016.
Photo by Guillermo Granja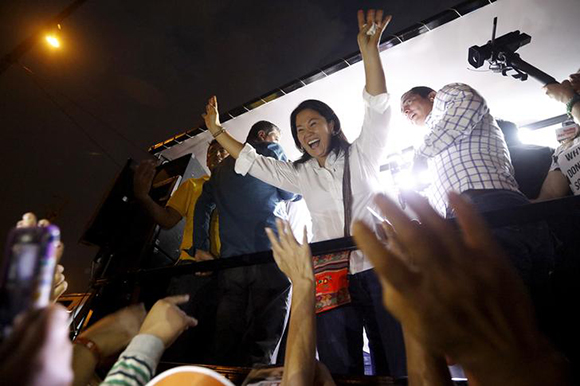 Peruvian presidential candidate Keiko Fujimori (C) of the Fuerza Popular (Popular Force) party greets supporters during a campaign rally in San Juan de Lurigancho district of Lima, April 25, 2016.
Photo by Guadalupe Pardo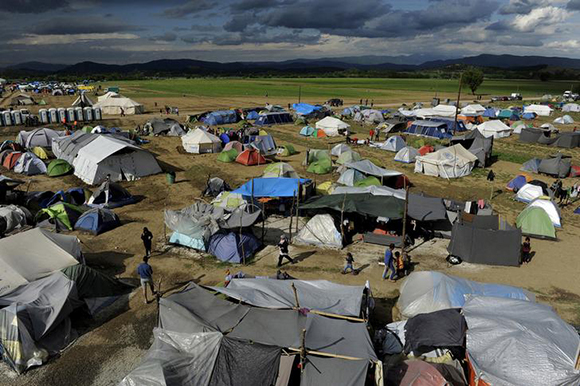 Tents are seen at a makeshift camp for migrants and refugees at the Greek-Macedonian border, near the village of Idomeni, Greece, April 25, 2016.
Photo by Alexandros Avramidis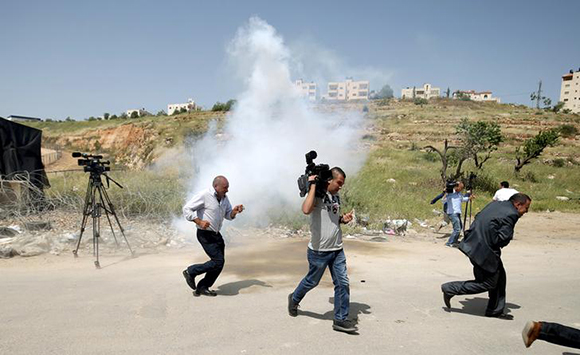 Palestinian journalists run for cover from a tear gas canister fired by Israeli troops during a protest calling for the release of Palestinian journalist Omar Nazal, who is held by Israel, near Israel's Ofer Prison near the West Bank city of Ramallah, April 26, 2016.
Photo by Mohamad Torokman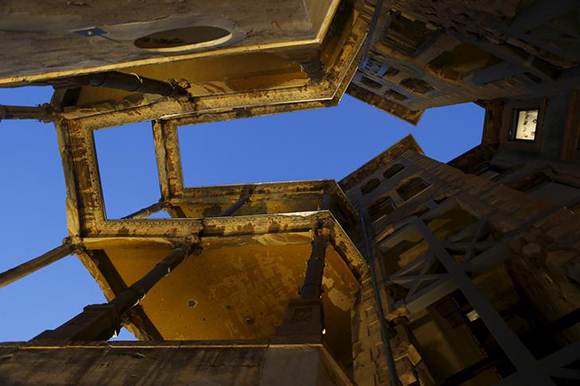 A view shows part of the historic Beit Beirut building during a ceremony marking the end of its restoration in Beirut, Lebanon, April 27, 2016.
Photo by Mohamed Azakir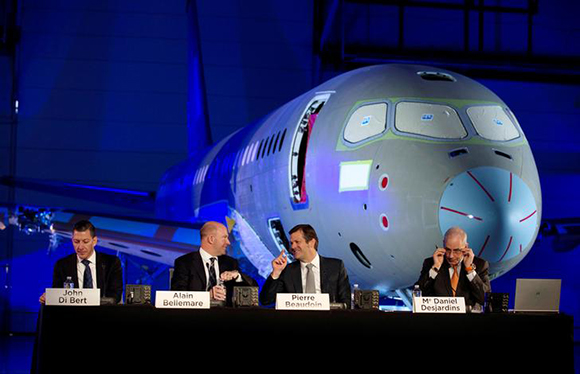 Alain Bellemare (2nd L) , president and CEO, Bombardier Inc., speaks with Pierre Beaudoin (2nd R), executive chairman of the board as they prepare for the start of their annual general meeting in Mirabel, Quebec, Canad,a April 29, 2016.
Photo by Christinne Muschi
A Russian Soyuz 2.1A rocket carrying Lomonosov, Aist-2D and SamSat-218 satellites lifts off from the launch pad at the new Vostochny cosmodrome outside the city of Uglegorsk, about 200 kms from the city of Blagoveshchensk in the far eastern Amur region, Russia April 28, 2016.
Photo by Kirill Kudryavtsev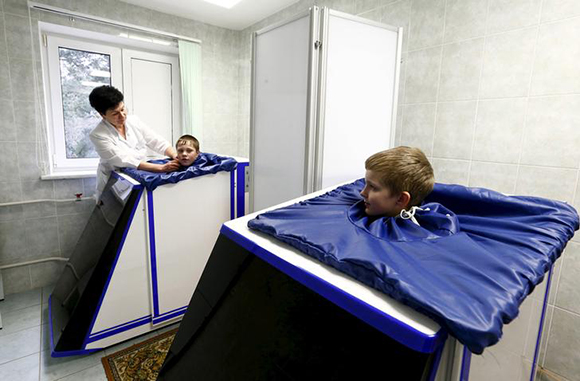 Children, who permanently live at the territory contaminated with radionuclides after the Chernobyl nuclear power plant accident, take physiotherapy while they are in a children's rehabilitation and health centre on the outskirts of Minsk, Belarus, April 25, 2016.
Photo by Vasily Fedosenko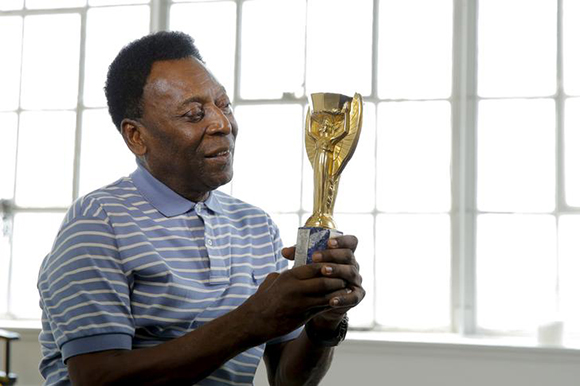 Legendary Brazilian soccer player Pele poses for a portrait with his 1958 World Cup trophy during an interview in New York, U.S.A, April 26, 2016.
Photo by Lucas Jackson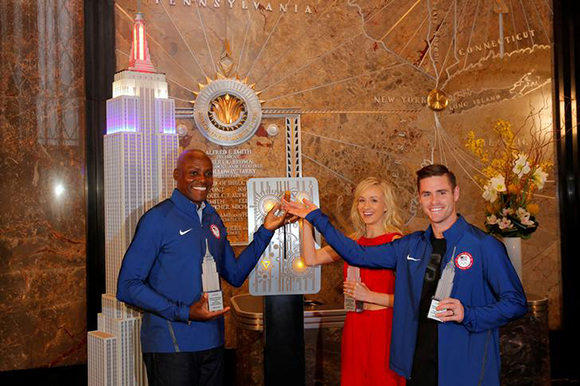 Athletes (L-R) Carl Lewis, Nastia Liukin, and U.S. Olympic hopeful David Boudia smile as they flip the switch to turn on the lights on top of the Empire State Building in New York, U.S., April 27, 2016.
Photo by Lucas Jackson
www.latinstock.com.mx | Tel:  (52-55) 5525- 0221 | Info@latinstock.com.mx | Sigue a Latinstock México en